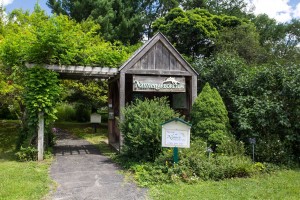 By Paul Kingston, Nannen Arboretum Society
Discover Ellicottville's best kept secret and you will find…The Nannen Arboretum, eight acres of tranquility and awe inspiring beauty.A place to meander, perhaps with a dog or two.
A place to teach a son or grandchild to fish.
A place to cross country ski or snowshoe when it's a winter wonderland.
A place to walk under an arbor of flowering crab apple trees and to take time to smell the fragrance that envelops you.
A place just to sit and embrace the silence.
A place that has over 200 trees and shrubs, an herb garden with 13 beds showing off a variety of herbs not seen anywhere else in this region known as The Enchanted Mountains.
A place that has a replica of a 500 year old Japanese Stone Garden, a perennial flower garden, two nature study halls ideal for weddings and other celebrations.
A place for strolling; stroll around Lake Nipponica and see how many huge grass eating carp are sunning themselves or swimming just below the surface of the lake.
A place for all seasons.
A place for you to discover.
A place open year round, every day from dawn to dusk, and it costs not a single penny!

So come and visit us at 28 Parkside Drive, Ellicottville, NY, 14731, behind the new Town Center and you will have found Ellicottville's best kept secret, a place we call the "Jewel in the Crown of Ellicottville", The Nannen Arboretum.