Volunteers
The Nannen Arboretum Society, Inc. is a not-for-profit.comanization with membership open to anyone who desires to support the arboretum's mission. Volunteers are needed in both the maintenance and the administrative areas. If you have an interest in helping the arboretum prosper, contact us at info@nannenarboretum.com to join, we welcome new members.
Donations
In addition to volunteer hours, the arboretum is funded by donations which are tax deductible. There are several ways to make a donation:
Through the donation box at the entrance to the arboretum;
Sending a personal check made out to the Nannen Arboretum Society, Inc. to PO Box 1852, Ellicottville, NY 14731;
Using your PayPal or Credit Card below;
Purchasing a memorial brick for the Celebration Walk outlined below
Celebration Walk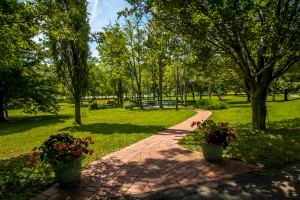 Your purchase of a Memorial Brick for the Celebration Walkway at the Nannen Arboretum
supports our mission to provide  a beautiful, educational destination for the Enjoyment of Nature and the study of horticulture.
The Celebration Walkway creates the entry aisle to the Chapman Sanctuary,  an outdoor chapel for weddings and educational programs.

The walkway provides space for two different size bricks that can be personalized for family, occasions,.comanizations or businesses.
Each brick is engraved with your personal inscription, and maintained in the walkway.

Click Here to Purchase a 4×8 Brick
Click Here to Purchase an 8×8 Brick